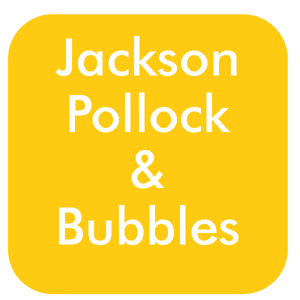 $

85.00
Inspired Pairing™: Jackson Pollock & Bubbles | Saturday, April 18th, 6-8pm
$85 per person
"I have no fear of making changes, destroying the image, etc., because the painting has a life of its own." - Jackson Pollock
In this Inspired Pairing workshop, explore Jackson Pollock's artwork and sparkling wine. Learn about action painting and experience the fun of dripping and splattering paint to create your original Pollock-like painting. The session starts with an introduction of Jackson Pollock along with a brief overview of painting basics and tips. With a visual presentation of Pollock's work as inspiration, guests create their masterpieces while receiving individual attention and guidance from the instructor. Enjoy the creative artist experience in an inviting and relaxing environment and go wherever your imagination takes you. At the end of the session, leave with your new masterpiece in hand.
A Fun+Art+Wine workshop is an ideal choice if you prefer individual attention and the authentic experience of exploring your creativity in a real working arts studio. Canvas, acrylic paints and painting supplies are included in the price and complimentary snacks and unlimited beverages are provided. Participants must be over 21 and sessions are limited to 8 people. All skill levels and talents are welcome. Whether you're a beginner or long-time artist, you will enjoy this unique creative experience.
After registering, you will receive an email confirmation with studio location details and directions. The art studio is conveniently located in DC's Penn Quarter, just blocks from Metro Center, Gallery Place and Navy Archives metro stations.
Cancellation Policy - Registration fees are non-refundable, however you will receive a credit to use for another workshop at a later date.
Wait list - If the session is sold out, please contact reiko@funartwine.com to be added to the wait list.
Visit www.funartwine.com for more information.